For generations, Buck knives have been a trusted brand that is still going strong today. The first thing you should know about Buck blades is that they are good for a variety of tasks and applications. Whether it's your everyday kitchen use, hunting or camping trips in nature – there will be something on their website to fit what you need. In this blog, we will discuss Are Buck Knives Good.
Overview of Buck Knives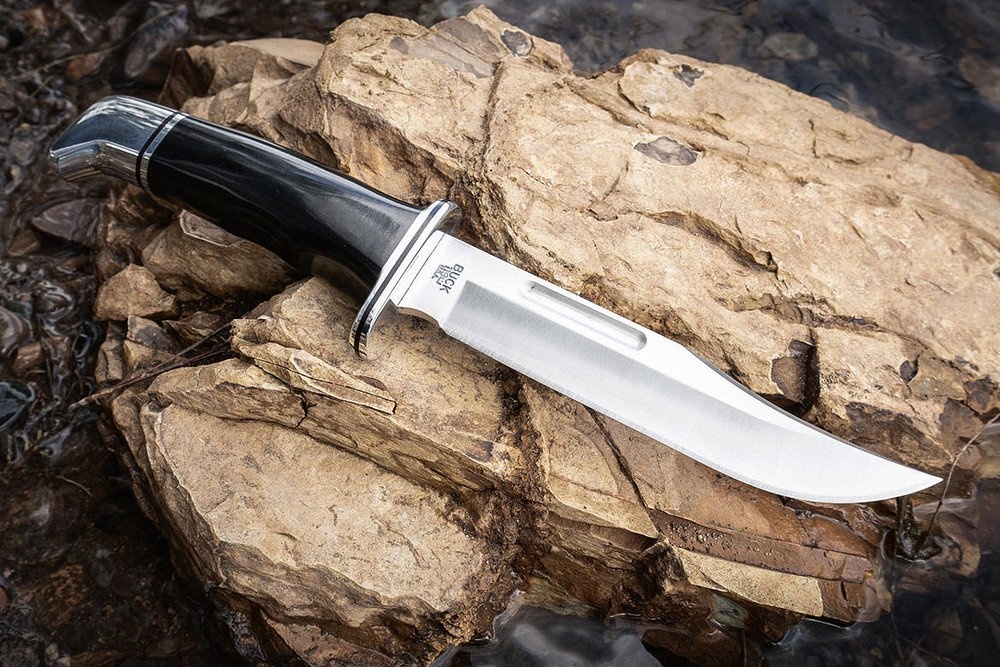 Buck Knives is a renowned and long-standing name in the knife industry, earning a reputation for producing high-quality and reliable knives since its inception in 1902. Founded by Hoyt Buck, the company has remained a family-owned business for over a century, and their commitment to craftsmanship and innovation has made them a favorite among knife enthusiasts worldwide.
One of the key factors contributing to Buck Knives' success is their dedication to using premium materials in their knife production. They carefully select top-quality steel for their blades, ensuring exceptional sharpness, edge retention, and overall performance. Whether it's the classic 420HC stainless steel or the modern S30V, Buck Knives' blade choices cater to various needs and preferences.
The brand's commitment to excellence extends to their manufacturing process as well. Each Buck knife is meticulously crafted, incorporating both traditional techniques and modern technologies. This blend of old-world craftsmanship and innovative methods results in knives that are not only aesthetically pleasing but also durable and reliable. As a testament to their commitment to quality, many Buck Knives come with a lifetime warranty, reflecting the brand's confidence in their products and customer satisfaction.
With so many colours available as well (including some wild colour options), finding just one knife can seem impossible sometimes. But not when we're here helping make things easier by giving recommendations based on taste & style preferences paired with specific task lists from customers who purchased those particular models.
Are Buck Knives Good?
Buck Knife steel types: 420HC vs S30V
Buck Knives utilize a variety of steel types, each carefully chosen to suit specific knife models and purposes. Two common steel types used by Buck Knives are 420HC and S30V.
420HC: This stainless steel is a popular choice for many Buck Knives due to its excellent corrosion resistance and ease of sharpening. It is a budget-friendly option that performs well for everyday tasks and light outdoor use. While not as high-end as some other steel types, 420HC is still capable of holding a decent edge and is relatively easy to maintain.

S30V: This premium stainless steel is often featured in Buck's higher-end models, prized for its exceptional edge retention and wear resistance. S30V steel is more complex to work with and requires skilled craftsmanship during the heat-treatment process. However, its superior cutting performance and longevity make it a preferred choice for users seeking top-notch performance in challenging conditions.
In terms of cutting performance, S30V steel outperforms 420HC due to its increased hardness and wear resistance. It retains a sharp edge for longer periods, making it ideal for demanding tasks and heavy use. On the other hand, 420HC provides satisfactory cutting performance for everyday chores and is easier to maintain in the field.
Ultimately, the choice of steel type in Buck Knives depends on the user's specific needs and budget. Whether opting for the durability of S30V or the practicality of 420HC, Buck Knives consistently deliver quality tools that cater to various cutting demands and excel in both outdoor and everyday applications.
Buck Knives for Outdoor Activities
Buck Knives have long been favored by outdoor enthusiasts and adventurers for their exceptional suitability in various outdoor scenarios. Their rugged construction and reliable performance make them a go-to choice for those who rely on their tools in demanding situations.
One of the key features that make Buck Knives perfect for outdoor use is their high-quality blade materials. Whether it's the 420HC stainless steel or premium S30V steel, these blades offer excellent edge retention and corrosion resistance, ensuring they can handle tough tasks like cutting rope, carving wood, and preparing food while camping or hiking.
The ergonomic designs of Buck Knives also contribute to their suitability for outdoor adventures. With comfortable handles that provide a secure grip, these knives allow users to work for extended periods without experiencing fatigue. Additionally, many Buck Knives come with features like integrated belt clips or sheaths, ensuring easy and safe carry during outdoor activities.
Moreover, Buck Knives' commitment to quality and durability is evident in their lifetime warranty. This warranty demonstrates the brand's confidence in the longevity of their products, reassuring outdoor enthusiasts that their investment is protected.
Features of Buck Knives
Build Quality
The craftsmanship of a knife is often measured by its quality material and how smoothly it operates. A great example would be Buckknives, which are made from high-quality stainless steel to ensure durability while still maintaining an elegant appearance with no sharp edges or corners on these blades.
Comfort
My personal opinion is that the most convenient knives are those that can be handled with one hand and that can be used efficiently. When you only need a blade for a fleeting need, there is no need to compromise on the power, speed, or efficiency of the blade when all you need it for is an instant need.
Design
The Buck knives are known for their sleek and sturdy design. Once you open up this blade, it will snap into place with a firm click that tells anyone who handles them what they need to know: these blades can cut things. The bigger size is perfect if handling large meats or cutting through tough materials like wood without worrying about breaking the knife because of its weight classification as stainless steel makes sure there's no corrosion from chemicals nearby making food less appetising than before when the left un blade bothered.
Durability
The knives from Buck are made to last. These sturdy, helpful tools for hunters and farmers alike come in both clip point or stainless steel flavours so you can find one that fits your needs perfectly.
Warranty
There is a limited lifetime warranty on all products sold by the company but some items, do have not a lifetime warranty. The guarantee ensures that you're getting an authentic, high-quality product for your money and does not cover normal wear from use or abuse under its terms; however, should there be manufacturing errors within these knives – which happen sometimes with handmade goods.
Pros and Cons Buck Knives
Advantages of Buck Knives
Time-Tested Legacy: Buck Knives has a long history dating back to 1902, and their experience and expertise in knife-making have earned them a solid reputation.


High-Quality Materials: Buck Knives use premium blade materials like 420HC stainless steel and S30V steel, ensuring excellent edge retention and durability.


Diverse Range of Products: They offer a wide selection of knives for various purposes, including hunting, camping, EDC, and more, catering to different user needs.


Ergonomic Designs: Buck Knives are designed with user comfort in mind, featuring ergonomic handles that provide a secure and comfortable grip during use.


Lifetime Warranty: The brand stands by the quality of their knives and offers a lifetime warranty, assuring customers of long-lasting performance and support.
Disadvantages of Buck Knives
Higher Price Range: Compared to some budget knife brands, Buck Knives can be relatively more expensive, reflecting the use of high-quality materials and craftsmanship.

Limited Innovation: Some knife enthusiasts may argue that Buck Knives have not embraced as many modern design trends or features as some of their competitors.

Weight: Some Buck Knives may be heavier than other lightweight options available in the market, which could be a consideration for users seeking ultra-portability.
Conclusion
In conclusion, after a comprehensive examination of Buck Knives, it is evident that they are indeed good knives. With a rich history of craftsmanship and quality, Buck Knives have earned their reputation as reliable tools for outdoor enthusiasts and adventurers alike. Their durability and longevity have been tested and proven in various scenarios, making them a trusted companion in the wilderness.
Furthermore, in comparison with other well-known knife brands, Buck Knives have held their ground and demonstrated their worth. Whether you're an avid hunter, camper, or simply in need of a reliable everyday carry, Buck Knives offer a diverse range of options to suit your needs. From their sturdy construction to their sharp and reliable blades, Buck Knives consistently deliver performance and value.
FaQ
Q: Why does Buck use stainless steel?
The company uses stainless steel because it's an ideal material for knives. Different elements make up different performance characteristics, and this same thing goes with the type of metal used to create them-stainless being one example that provides protection against corrosion at all times.
Q: Where can I purchase a Buck knife?
The Buck knife is a great choice for the experienced chef looking to invest in high-quality equipment. The company has been around since Seton Hall University was founded, and they have an impressive array of knives available with prices starting at just $9.
Q: Are Buck knives made in the USA?
Yes, Buck Knives is known for its commitment to producing high-quality knives in the USA. They have been manufacturing knives in Idaho since 1902.
Q: What type of steel does Buck use for their blades?
Buck Knives commonly use 420HC stainless steel for their blades, which is known for its corrosion resistance and excellent edge retention.
Q: Are Buck knives good for outdoor activities?
Absolutely! Buck knives are popular choices for outdoor enthusiasts and hunters due to their sturdy construction and excellent cutting performance. They are designed to handle various tasks in the wilderness effectively.