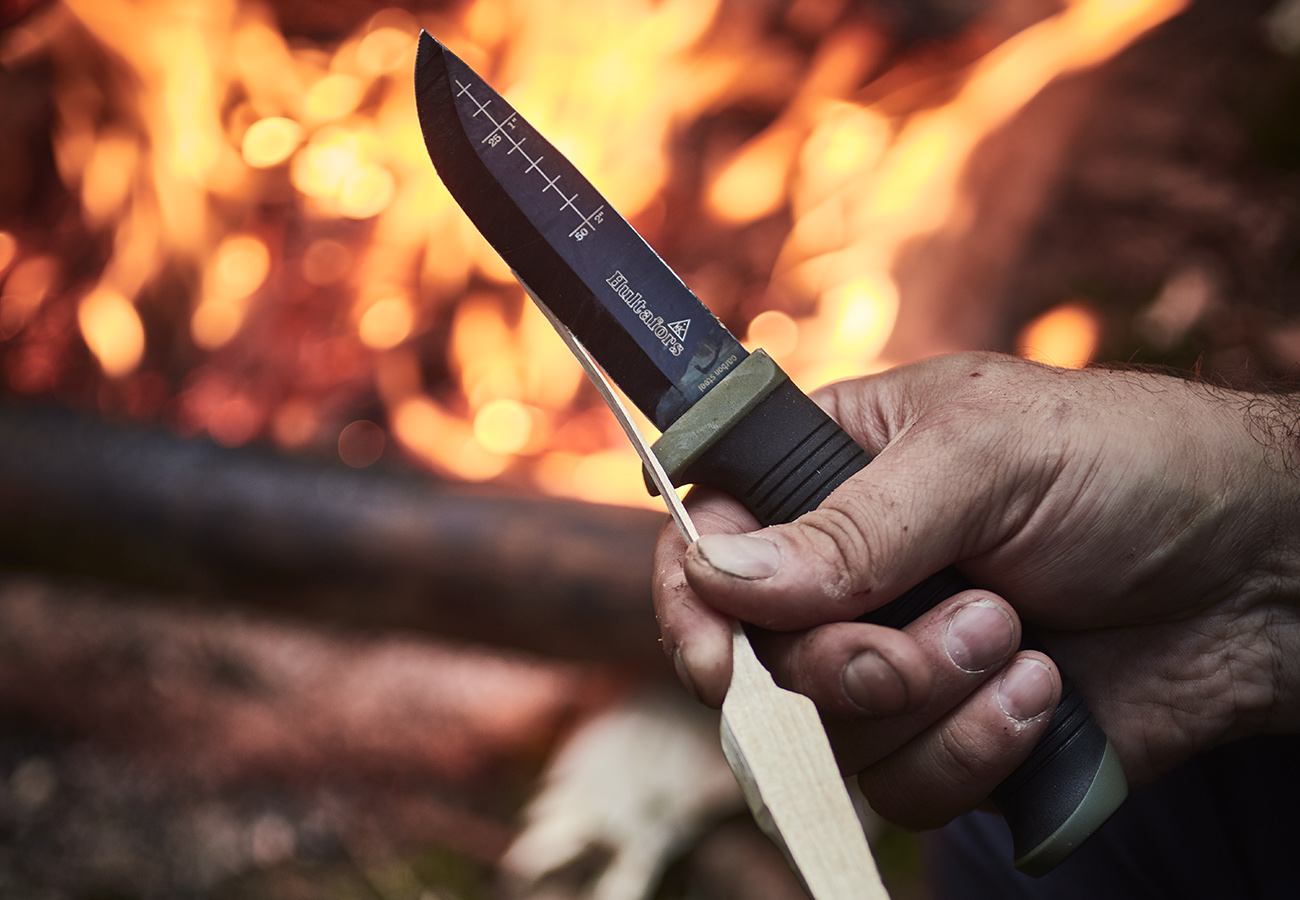 Not only does making your hunting knife provide you with a custom-made tool that's guaranteed to be tough, but it also allows for creativity and personalization. With just following these simple steps listed below everything will come together quickly all without breaking out into an accidental sweat. In this blog, we will discuss How To Make A Hunting Knife?
Why Make Your Own Hunting Knife?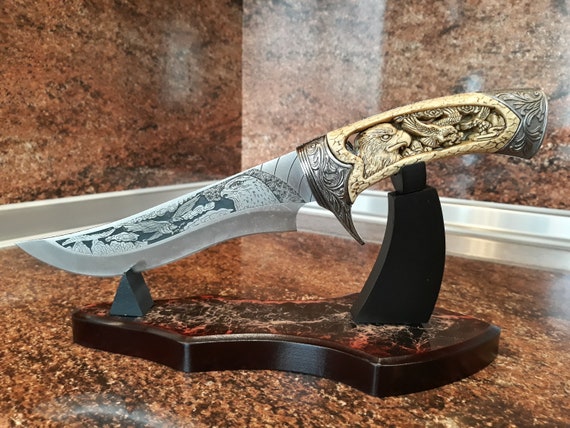 Making your own hunting knife is a rewarding endeavor that offers numerous benefits and advantages. One of the key reasons to embark on this journey is the opportunity to create a custom-made tool that is tailored specifically to your needs and preferences. By making your own hunting knife, you have complete control over the choice of materials, design, and construction techniques, allowing you to craft a blade that excels in performance, durability, and aesthetics.
Another compelling reason to make your own hunting knife is the sense of pride and satisfaction that comes from crafting something with your own hands. It is a hands-on experience that allows you to connect with the ancient art of knife making and engage in the creative process. The time and effort invested in crafting each component of the knife, from the blade to the handle, instills a deep sense of accomplishment and ownership. Furthermore, making your own hunting knife provides a unique opportunity to learn and develop new skills, expanding your knowledge in metallurgy, woodworking, and knife craftsmanship.
Additionally, making your own hunting knife can be a cost-effective alternative to purchasing a high-quality knife from a store. While custom knives can come with a hefty price tag, crafting your own allows you to save on costs without compromising on the quality and performance of the final product. It is an investment of time and effort that pays off in the form of a functional and personalized hunting knife that you can be proud of.
In summary, making your own hunting knife offers the freedom to create a customized tool, a sense of pride and satisfaction in crafting something unique, and the opportunity to save on costs while still obtaining a high-quality blade. It is a fulfilling and enriching experience that allows you to connect with the rich tradition of knife making and create a valuable companion for your outdoor adventures.
Make your own Hunting Knife with Steel
I recommend that you tap this wonderful source for any knives you want to make in the workshop at home. I use carbon steel saw blades, which come from lumber mills and scrap yards–perfect because they are top quality but also affordable. They're hard enough to make great knife edges while tough enough to last even when used heavily or constantly without dulling down too much from constant sharpening.
Create the Blade
Knives come in a wide variety of shapes and sizes. Look around – try out different designs with different blade lengths before settling on a design that feels right to you. When you have found the perfect design, you should first make a paper or poster board mock-up (including the tang!) of the actual knife so you can see what kind of shape will work well when you trace it onto the steel later on.
Handle Design
When designing your knife blade, consider the type of grip may be different if you use the best one then your work is comfortable. If it will be full tang, then make sure to include both an exposed part that constitutes its base as well as what's known informally among collectors and sportive terms "scales" literally layers upon additional protective measures to protect against corrosion or injury if handled improperly.
Assembling Blades
In order to begin with, you will need to clean and grind the steel before you can begin cutting it into the shape you desire. The second step is to use a cutting torch or band saw in order to make precise cuts using a cutting torch or band saw. It is because of the speed at which it can sharpen your favorite kitchen knife as opposed to using a granite stone to do the same thing. The blades must be assembled properly in order to be able to work properly.
Blade Grinding
This is an essential step in knifemaking. It's also one of the most crucial and difficult steps (there are several different ways to shape an edge).
Grinding our knives is a time-consuming process, but it's worth the effort. We can develop such a good "feel" for what works best with each blade that even these tiny mistakes won't bother us anymore because we'll be able to produce them quickly on demand without noticeable flaws in shape or sharpness from minute scratches caused by sliding during grinds – all thanks too much practice.
Finger Guard Dropped
The last 1/8-inch on the end nearest your handle should be faced off very precisely and sharply. This spot will serve as a guard for when you hold it with one hand, so make sure not to grind this edge too smooth, or else someone could cut themselves.
Regrind The Blade
Now you're ready to precision grind your knife. Use a 40-grit belt for this step and make sure not to turn the point or edge of it into any cut that will be caught at high speed – because then the damage could occur.
Heat-Treating A Hunting Knife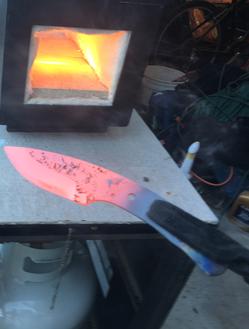 Hardening, tempering, and annealing are the three basic processes of heat-treating steel. Hardened carbon blades can be made into sharp objects by quenching them in oil or salt water after heating them to a cherry red color with overnight immersion but rather a slow cooling which makes these tools flexible enough not to break when used on tough materials such as animal hides during hunting trips through harsh weather conditions.
Knife Hardening
Hardening your steel is important for blade durability. To do this, bring the entire knife to an even red then plunge it into a quenching bath of tempering oil or half and half mixture between used crankcase oil and diesel fuel; be sure that you don't cover any crucial areas on the edge with tongs while heating up as they must always touch backside only – if using electric kiln make certain it's large enough so both in AND out can fit all sizes needed without crowding each other.
Craft Satisfaction
Custom-crafted knives have been prized possessions for centuries. With their unique designs and high-quality craftsmanship, they command high prices and are considered valuable collector's items. However, if you have a passion for crafting and a desire to create something truly special, making your own knife can be a rewarding and fulfilling experience. Not only does it allow you to customize every aspect of the knife according to your preferences, but it also gives you a deeper appreciation for the artistry and skill that goes into creating these functional works of art.
When you make your own blade, you have full control over the materials, design, and construction techniques used. You can choose the type of steel that best suits your needs, whether it's high-carbon steel for durability or stainless steel for corrosion resistance. You can experiment with different blade shapes and grinds, allowing you to create a knife optimized for specific tasks like skinning, boning, or general field use. Additionally, you have the freedom to select the handle material, shape, and ergonomics, ensuring a comfortable and secure grip that suits your hand size and personal preferences.
Benefits of Crafting Your Own Knife
Crafting your own knife comes with a multitude of benefits that make it an appealing endeavor for knife enthusiasts and craftsmen alike. One of the primary advantages is the ability to create a knife that is tailored specifically to your unique preferences and needs. By crafting your own knife, you have full control over every aspect of its design, including the choice of materials, blade shape, handle construction, and finishing details. This level of customization ensures that the final product not only meets your functional requirements but also reflects your personal style and taste.
Another significant benefit of crafting your own knife is the deep sense of satisfaction and accomplishment that accompanies the process. From selecting the raw materials to shaping, grinding, and assembling the various components, every step contributes to the creation of a truly handmade masterpiece. The ability to transform raw materials into a functional tool with your own hands is immensely gratifying and instills a sense of pride that cannot be replicated by simply purchasing a mass-produced knife.
Crafting your own knife also presents an opportunity for skill development and personal growth. As you engage in the knife-making process, you acquire new techniques, refine existing skills, and expand your knowledge of metallurgy, woodworking, and blade craftsmanship. This hands-on experience allows you to continually improve your craftsmanship and gain a deeper understanding of the intricacies involved in creating a high-quality knife. Additionally, the satisfaction and confidence gained from successfully crafting your own knife can inspire you to take on more challenging projects and explore other aspects of the craft.
Conclusion
The Process-Selecting the Right Blade Steel for Your Knife-Making the Tang and Handle of Your Knife-Attaching the Handle to the Tang-Sharpening and Finishing Touches. With just a few simple tools and some basic knowledge, you can make your hunting knife that is perfectly suited to your needs. Not only will this save you money in the long run, but it also allows for creativity and personalization that simply isn't possible with off-the-shelf knives. Thanks for reading our blog.
Also Read:
How To Make A Sheath For A Knife?
FaQ
Q: What materials are commonly used to make a hunting knife?
Hunting knives are typically made from high-quality steel, such as stainless steel or carbon steel. Handle materials can vary and may include materials like wood, bone, G10, or synthetic materials like Micarta or FRN (Fiberglass Reinforced Nylon).
Q: Do I need special tools to make a hunting knife?
While specialized tools can make the process easier, basic tools like files, sandpaper, a vise, a drill, and a hacksaw can be used to make a hunting knife. Some optional tools that can aid in the process include a belt sander, a forge for heat treating, and a grinder for blade shaping.
Q: What are the key steps involved in making a hunting knife?
The process of making a hunting knife typically involves designing the knife, selecting the materials, shaping the blade, heat treating the blade for hardness, attaching the handle, and finally, sharpening and finishing the knife. Each step requires precision and attention to detail to create a functional and aesthetically pleasing hunting knife.
Q: Is making a hunting knife suitable for beginners?
While making a hunting knife can be a rewarding experience, it does require a certain level of skill and knowledge. Beginners may find it helpful to start with simpler knife designs or seek guidance from experienced knife makers or tutorials before attempting more complex projects. Practice and patience are key to developing the necessary skills for successful knife making.